Our Services
You decide what you need – Let us know how we can help you!
Discovery
With this service, we will help you explore your job skills, abilities, and desires. This will occur in a person centered manner focusing on you. You will work with a trained professional to gather information through observations, interviews, volunteer opportunities, and other pre-employment activities individualized to your desires and needs. The goal of this service is to help you in your path towards competitive employment by helping you to explore your skills and desires and exploring employment options.
Employment Path Services
With this service, we will help you meet your goals for competitive employment by increasing your work skills and through learning about the expectations of employers. This service may provide more structured employment for you so that you can gain valuable work experience that leads to competitive employment. The goal of this service is to give you the work experience necessary for getting a competitive job.
Job Development & Job Placement
With this service, we will help you identify and develop appropriate competitive employment opportunities. This is a customized approach that is individualized to your desire and needs. The goal of this service is to place you in a competitive employment situation and support you as needed to assure your success on the job.
Job Coaching Services
With this service, we can provide ongoing on the job support to you to help you succeed. In this service, we can help you with various aspects of your job such as attendance, skill retention, training, communication with your employer, or other things that come up. The goal of this service is to provide you with ongoing support to help you succeed on your job.
Where would you like to work? Let us help you.
Past job placements include grocery stores, Oregon Mint Snuff, Tillamook Cheese Factory, Shilo Inn, Tillamook Care Center, Transfer Station, Headlight Herald, Pacific Oyster, Pelican Tap Room, Tillamook Country Smoker, Coliseum Theater, P&L Heating and Sheet Metal, and the Tillamook County Landfill, to name a few.
Day Support Activity Services
With this service, you have the option for many types of activities depending on your interests and needs. A few examples of day support activities include:
Community Outings
Arts & Crafts
Exercise
Retirement Activities
Attendant care and support
Other activities geared towards your needs and desires
Day Support Activity Services are typically an option for individuals not desiring employment services for a variety of reasons such as age, medical and support needs, or personal desire. Day Support Activities are structured and supervised by trained Marie Mills Center Staff.
Marie Mills Center has a fleet of vehicles that are handicapped accessible to get you where you need to be – whether it is a work site, a Marie Mills Center facility, or to the community. Marie Mills Center also utilizes the Tillamook County Transportation District (TCTD) for additional transportation needs and TCTD currently comes to our primary vocational site several times daily. We provide discounted tokens and bus passes to program participants to use for TCTD public transportation.
If you want to use public transit services but don't know how, let us know and we can teach you how to use them.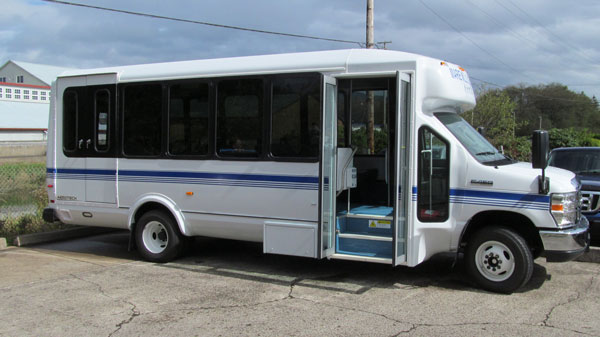 24 Hour Residential Program Services
With this service, you can choose to live in a Marie Mills Center group home setting, staffed around the clock with trained and experienced Marie Mills Center staff. In this service, you will learn independent living skills, receive supports necessary for your welfare, health, and safety, and also receive supports in accessing the community. In the past, many individuals have used this service as a "stepping stone" to more independent living situations such as the Marie Mills Center Supported Living Program.
Our 24 Hour Residential Program services occur through our Madrona House group home and our Nestucca House group home.
Supported Living Program Services
With this service, you can choose to live in a smaller setting such as an apartment, house, or even with your family. This service is highly individualized and may focus upon providing attendant care, community inclusion, meal preparation, personal budgeting and financial management assistance, shopping assistance, personal medical management assistance, and a variety of other services to support your desires, needs, and situation. This service is staffed by trained and experienced Marie Mills Center Staff according to your needs and desires.
Respite/Relief Services
With this service, you may choose to be in a Marie Mills Center Residential group home on a time limited basis. For example, your primary care provider may be unavailable to you and you need a place to stay temporarily. Respite/Relief Services could be day time or overnight depending on your situation and needs.
Other Residential Services
Do you have a need that does not fall under 24 Hour Residential Services, Supported Living Services, or Respite/Relief Services? If so, contact us – we may be able to tailor a service to your unique need.